Danielle G.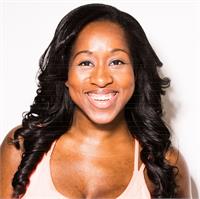 THE FLAVA MAKER
Get ready to show up and turn up cuz this queen is having a moment. Oh yes, you betta believe. Danielle's class is a 55-minute schooling in hype, boys and girls. She will whip you into shape with her full-the-f*ck-out moves and contagious go-hard attitude. Yes, kids. It's lit. Not in the mood for all-work-no-play? No problem. This girl is funnnyyy as f*ck. Like, really, really funny. It's like you're sweating bullets and also taking class with Amy Schumer at the same time. Originally from a small New Jersey town, Danielle broke out to the District, and her flava and big-city sense of humor cannot be contained. Danielle graduated from UNC Chapel Hill with a degree in English and Information Science (but she always wonders what her life would be like had she gone to Rutgers). By day, Danielle works as a systems analyst for an IT firm. By night, Danielle teaches Insanity, Zumba, ((305)) and drinks unlimited amounts Pinot Grigio.
What to expect from her class: some down-n-dirty flava, contagiously big moves, and a big dose of hilarious.
Danielle G. instructs the following:
Dance your ass off to this power playlist featuring the latest hits of house, hip hop, and pop. You will feel like you've stepped into a Miami Beach nightclub with your friends as you lose yourself in the music. Work every inch of that piping hot body and leave drenched in sweat. Life is a party, why shouldn't your workout feel like one, too?

** All classes are 55-minutes and consist of a warm-up and cool down. Unless otherwise specified, all classes are ((305)) Original classes.