Juli L.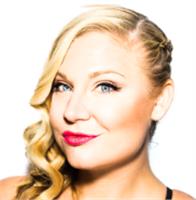 THE BUTT-RESS
Check your inhibitions at the door. Juli Lawless -- for realz, "Lawless" is her birth name -- is the perfect instructor to coach you through a heart-pounding, ass-kicking workout. Juli has been teaching fitness since 2008 and has developed a die-hard following in D.C.'s fitness and dance scenes. And when Juli's not teaching fitness and pounding the pavement like a maniac, she's kicking ass and taking names at her full-time job as a rocket scientist (for serious, yo, she is a f*cking aerospace engineer). Her fun-loving, feel-good attitude is totally contagious. But don't be fooled by her welcoming energy and approachable aura. When this woman means business, she is one tough chick. She'll deliver a hot, hot, hot workout and help coach you through wild, high-intensity sprints with a can-do 'tude. Juli is that rare breed of instructor who is warm yet tough, focused yet friendly, upbeat yet grounded. Juli will create a safe space for you to experiment, let loose, and carpe the mother effin diem.
What to expect from her class: a judgement-free zone and a supportive coaching style that will help you conquer even the toughest workout.
Juli L. instructs the following:
Dance your ass off to this power playlist featuring the latest hits of house, hip hop, and pop. You will feel like you've stepped into a Miami Beach nightclub with your friends as you lose yourself in the music. Work every inch of that piping hot body and leave drenched in sweat. Life is a party, why shouldn't your workout feel like one, too?

** All classes are 55-minutes and consist of a warm-up and cool down. Unless otherwise specified, all classes are ((305)) Original classes.