Byron S.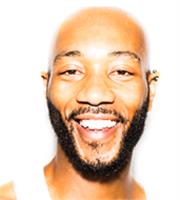 THE SOUL SHAKER
With an uncanny joie de vivre and wild sense of humor, Byron is the first to let loose on the dance floor at a party. This fly fella is famous for his smile-and-sweat inducing workouts. Warning: laugh too hard in his class and Gatorade will squirt outta your nose. No judgment around here. Nuh-uh. Byron is pure love and humor and will make you feel 100% comfortable in class. Byron has toured internationally as a dancer with stars like Mya. In Washington, D.C., he works as a performer, hip hop choreographer, fitness instructor, and kids' dance teacher. Byron's contagious energy and sense of humor will have you moving at 100 miles an hour and smiling so hard, you'll forget you're even working.
What to expect from his class: outrageous jokes, non-stop groovin', and the vibe of a real dance party.
Byron S. instructs the following:
Dance your ass off to this power playlist featuring the latest hits of house, hip hop, and pop. You will feel like you've stepped into a Miami Beach nightclub with your friends as you lose yourself in the music. Work every inch of that piping hot body and leave drenched in sweat. Life is a party, why shouldn't your workout feel like one, too?

** All classes are 55-minutes and consist of a warm-up and cool down. Unless otherwise specified, all classes are ((305)) Original classes.




A spooky twist on our classic cardio class, ((CARDIO)) HALLOWEEN will bring out your freakiest self. Costumes encouraged.

All cardio classes are 55 minutes long, with a focus on high-intensity rhythmic cardio. Classes also feature sprint intervals, sculpting, and a stretch cooldown. Classes torch between 500 - 900 calories per session. A live DJ blasts music the whole time. Expect alotta air humping, jumping jacks, and non-stop smiling. You're gonna be sore for dayzzz. Not a dancer? No problem. Seriously. Our classes are easy-to-follow and made for non-dancers and dancers, alike.